Banff National Park is one of the premier parks in Canada and should be on the top of everyone's list of the things to do in Canada. Banff National Park has it all: cold clear rivers, cobalt-colored lakes, glaciers, and dense pine forests full of animals. For campers, this is the perfect place.
Most people just practice windshield tourism here, with stops at Banff townsite, Lake Louise, Moraine Lake, and various points along the Icefields Parkway. Those that really get the best experience slow down and plan experiences in the park. The best way to do that is to pitch a tent or park an RV in some of the most amazing Canadian campgrounds you'll ever visit.
Wake up in the morning and crawl out of your tent to see the stunning Athabasca Glacier sparkling in the early light. Enjoy your coffee at the edge of a lake so impossibly blue, you're stunned into silence. Finally, at the end of the day, be lulled to sleep by the burbling of a creek and wind whistling through the pines.
The nine campgrounds below offer different experiences. If you are looking for convenience and easy access to the top spots, camp near Banff Townsite at Tunnel mountain or at Lake Louise. For something with more nature and less services, consider Waterfowl, Rampart, or Mosquito Creek. If you're a hardy camper not afraid of changeable weather and cold nights, set up your tent at Wilcox and have the Athabasca Glacier all to yourself.
That said, if you are new to camping, don't be discouraged. Parks Canada has done a good job of providing alternative camping options in the campgrounds. These include the innovative oTENTik structures, which are a cross between a tent and a cabin. Inside, you'll find beds, floors, lights, and a heat source.
The campgrounds closest to the towns of Banff and Lake Louise have electricity and running water and are generally reservable. Those further afield are generally first-come, first-served and are unserviced. Continue reading to get a better understanding of the best campgrounds in Banff National Park.
Note: Some businesses may be temporarily closed due to recent global health and safety issues.
1. Waterfowl Lakes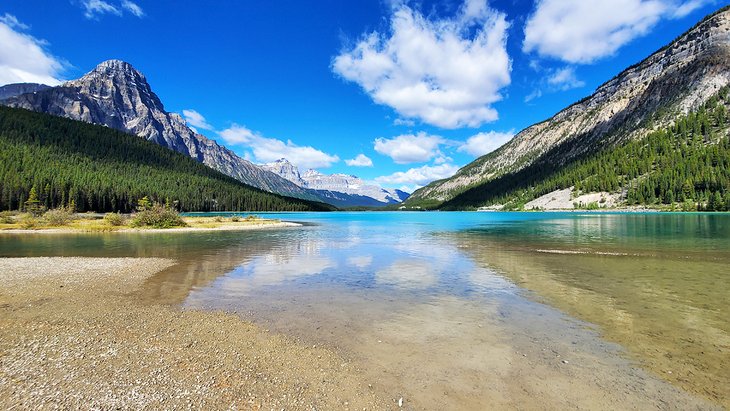 Looking out onto stunning Lower Waterfowl Lake, this campground has one of most beautiful settings in the park. Located 57 kilometers up the Icefields Parkway from Lake Louise, it's best suited for people who are looking for a quiet camping experience and are interested in the natural attractions, rather than the convenience of being near the town of Banff or Lake Louise.
Set in a forested area off the main highway, this campground has 116 sites, all available on a first-come, first-served basis. Sites are well spaced and quite private. Comfort stations are a mix of three pit (dry) toilets and one with flush toilets, sinks, and hot and cold running water.
The roadways in the campground are relatively narrow, and this campground is best suited for RVs under nine meters (30 feet). Communal cook shelters with stoves and picnic tables are available.
The campground is set among tall trees with a small creek running along one side. A pleasant hiking trail connects Upper Waterfowl Lake and Lower Waterfowl Lake. Other trails leaving the campground include the Cirque Lake hike and the Chephrern Lake trail.
This is perhaps one of the best situated campgrounds in the entire park for hiking and exploring the Icefields Parkway. The spectacular Peyto Lake is just up the road, Bow Lake is nearby, Lake Louise is just over 40 minutes away, and the Athabasca Glacier an hour away.
The Waterfowl Lakes campground is open mid-June through to the first week of September. If you want to camp here in summer, it's best to have a backup plan in case you can't get a spot.
2. Rampart Creek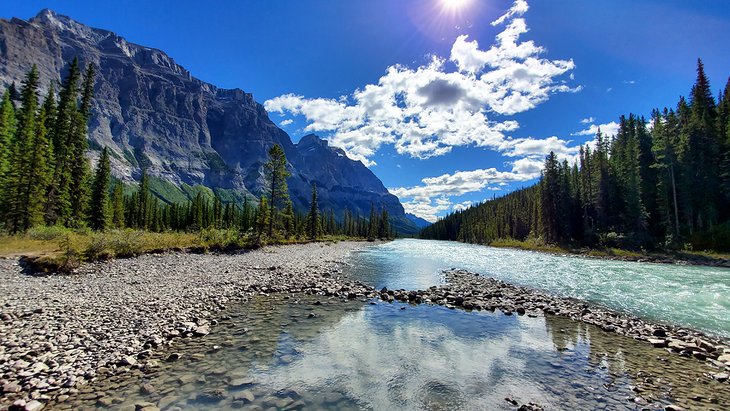 Rampart Creek is a delightful, small campground with only 50 sites. The North Saskatchewan River runs along the shoreline of the campground, and some of the sites are right along the river. The campground is 88 kilometers from Lake Louise up the Icefields Parkway.
This campground is fairly basic, but does have communal cook shelters with wood stoves and picnic tables where you can meet your fellow campers from around the world.
All sites are reservable online in advance from early July through mid-September. Outside of these times, it is first-come, first-served. The comfort stations consist of pit toilets; water is available. If you are traveling with an RV, the campground is recommended for rigs under 35 feet only.
Basic camper supplies, a restaurant, gas station, and hotel are just south of here at Saskatchewan River Crossing. The Rampart Creek campground is open from the first week of June through to mid-October.
3. Tunnel Mountain Village 1, 2, and Trailer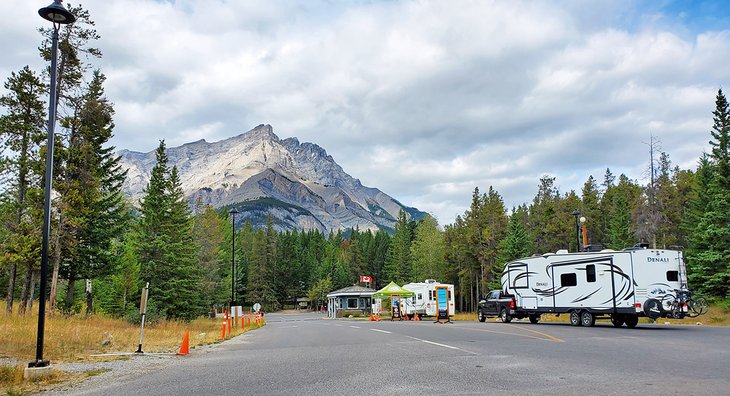 Imagine camping on the top of a mountain, and that's basically what you'll find at any one of the Tunnel Mountain campgrounds. Set on a wide plateau with wide-open spaces, the campground has amazing views out in all directions from many sites, especially in the Trailer Court.
This campground area makes an ideal place to park your rig or car for a few days and explore all that the Banff townsite has to offer. Attractions include the Sulphur Mountain Gondola, the Hot Springs, the Cave & Basin Historical Site, and, of course, shopping on Banff Avenue in Banff. The park makes it easy to do this with frequent and easy-to-use public transit, stopping right at the campground entrance.
Three campgrounds are grouped together up here; two of them, Village 1 and 2, are for RVs and tents. Here, you'll find 808 sites combined. Village 1 has 618 sites; all are unserviced. Village 2 has 188 sites, all with electricity (15, 30, and 50 amps). Village 2 has 34 tent-only walk-in sites as well. The aptly named Trailer Court has 321 full-service (water, sewer, and electrical) sites with 15 and 30 amp service. Note that campfires are not permitted in the Trailer Court.
The campground has comfort stations with flush toilets and hot showers, communal cook shelters, fire pits, and interpretive services. For those without equipment, oTENTik structures are also available for rent.
Tunnel Mountain Village 2 is open all year; the Trailer Court and Tunnel Village 1 are open from the first week of May through the first week of October.
4. Two Jack Lakeside Campground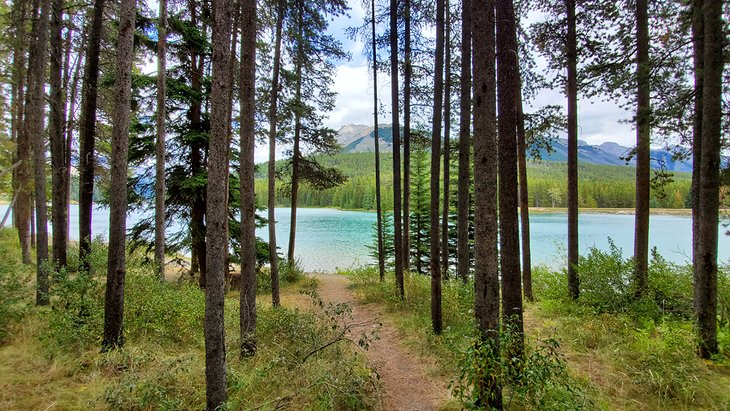 One of the most popular campgrounds in the entire park is Two Jack Lake. Two campgrounds are in the lake area: Two Jack Lakeside Campground and Two Jack Main Campground. As the name suggests, Lakeside is on the shores of Two Jack Lake, but Main Campground is set back in the forest. These campgrounds are in a great location in relation to the town of Banff, and if you can get in at either, you'll be happy, but Lakeside is the preferred camping area.
The Two Jack Lake camping area is 12 kilometers from the town of Banff and is an ideal place to base yourself in order to explore the surrounding area.
Lakeside Campground has 64 sites spread out across a rolling hillside set underneath towering pine trees. Twenty-three of these are spectacular walk-in campsites spread along the lakeshore.
This campground is mostly oriented towards tent camping; it's a pretty tight squeeze for small RVs and those with trailers. Maximum length is eight meters (27 feet).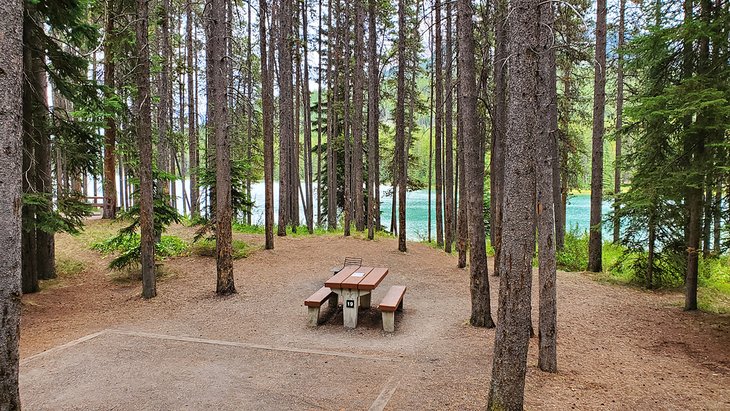 Ten oTENTik sites are available; they occupy some of the best real estate in the campground, beautifully set along the lakeside.
Comfort stations have running water and flush toilets, and showers. This campground is 100 percent reservable online and usually sells out within minutes of sites being released each spring. The people who camp here tend to stay a while, unlike Tunnel Mountain, which is far more transient.
Two Jack Lake is a wonderful spot for canoeing, stand up paddleboarding, and kayaking with generally calm, but cold, waters.
The Two Jack Lakeside campground is open from the first week of May through until the first week of October. The Two Jack Main campground is open from the third week of June through until the 1st week of September.
5. Silverhorn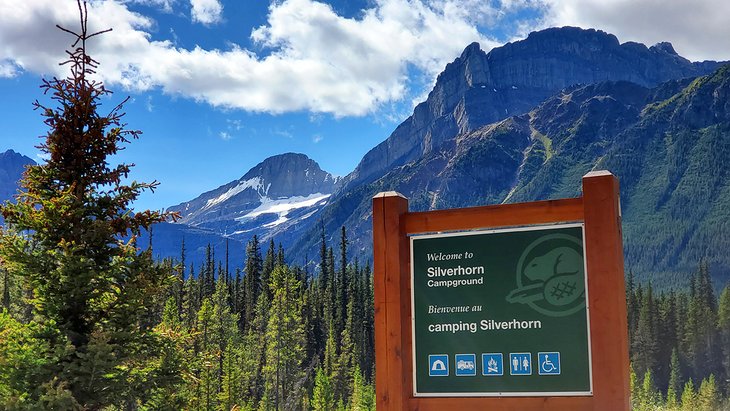 Silverthorne Campground offers up some of the best views of all the Icefields Parkway camping locations. The reason for this is that the sites are set in a wide valley on level ground with no trees between sites. The campground has 45 sites, all are first-come, first-served.
This campground makes the list primarily for those traveling in RVs. The open space and easy access make it suitable for even the largest of rigs, up to 20 meters, 70 feet in length. If you are tenting, this campground is not recommended, try Waterfowl Lakes instead.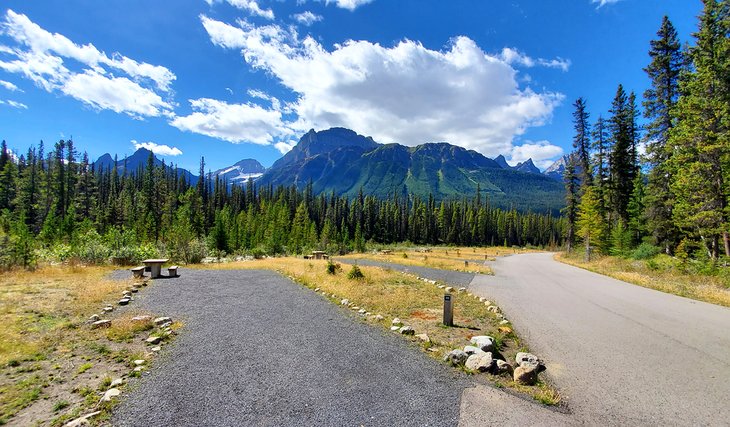 Facilities are limited here, comfort stations consist of pit toilets, and no running water is available. However, if you are in an RV, these shouldn't present any issues for you.
Silverthorne campground is located 52 kilometers from Lake Louise and is open from the first week of June through the last week of September
6. Wilcox Campground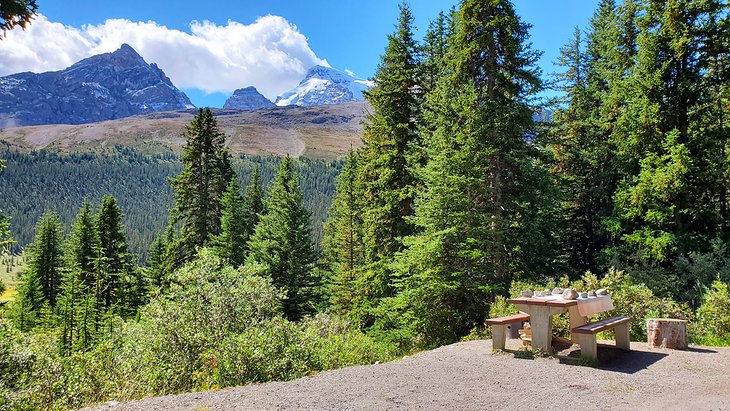 Wilcox Campground is just a few kilometers over the border in Jasper National Park but part of the usual driving tour if you are sightseeing in Banff National Park. If you love hiking, this is the place to stay, because the famous Wilcox Pass hike leaves from the campground entrance roadway.
This is a small campground, with only 46 sites, and is primarily suited to tent camping and small RVs under eight meters or 27 feet. The reason for the size limits is that the campground is set on a series of terraces, and the depth of each site is relatively limited. Sites are level and well spaced with great privacy.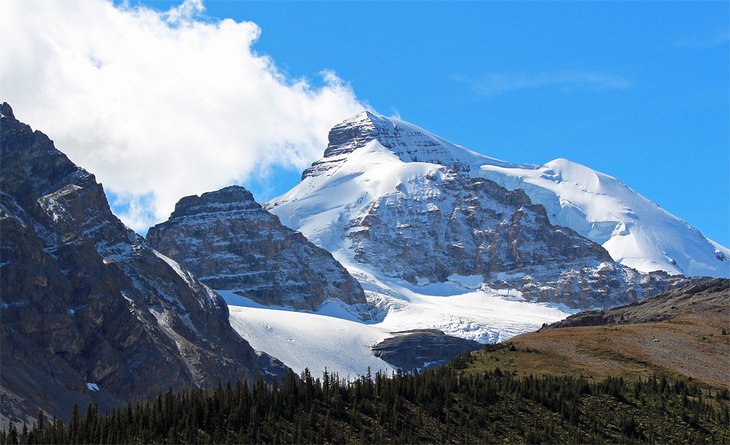 Comfort stations are pit toilets; running drinking water is provided via three taps located at the bottom, mid, and top levels of the campground.
Views from this campground are spectacular, with the soaring peaks of Mount Athabasca (3,491 meters, 11,453 feet) and Hilda Peak (3,058 meters, 10,032 feet) just across the valley floor.
In addition to Wilcox Pass hiking trail, another option for exploration is the Parker Ridge hike with views of the Saskatchewan Glacier. These are two of the best hikes in Banff National Park. Just up the road a kilometer is the world-famous Athabasca Glacier and visitor center.
This is high altitude camping at nearly 2,000 meters (7,000 feet) so be prepared for very cold nights, even in the middle of summer. Wilcox Campground is open from the first week of June until the third week of September
7. Icefield – Tent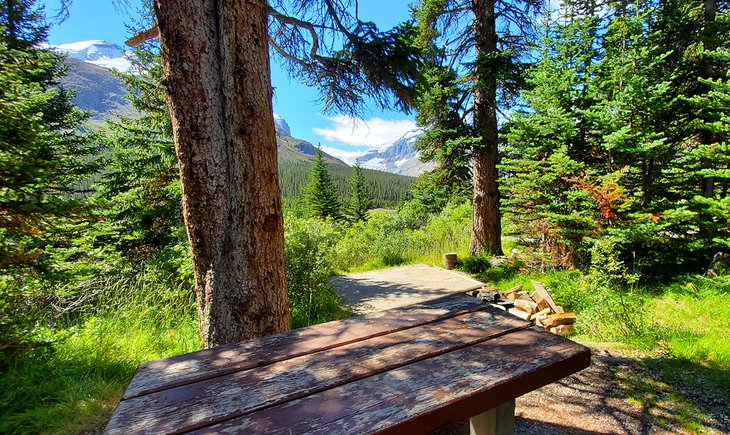 Perhaps the most scenic of all the campgrounds in any of the mountain national parks is the Icefield Tent Campground. Perched on a hillside overlooking the Athabasca Glacier, the views from here are breathtaking.
Try your best to secure one of the 33 first-come, first served sites, and it will be an experience you won't forget. Sites here are on level tent pads and come with a picnic table, fire ring, and a parking spot. Five of the 33 sites are walk-in only across a small bridge over the creek.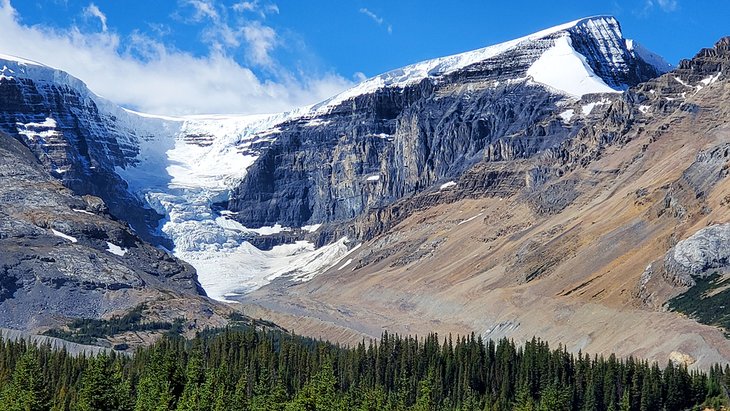 A communal cook stove is located in a rustic building, meaning your dinner companions will be mountain enthusiasts from around the world. Note that at this elevation (near 2,000 meters, 7,000 feet) it will take longer to cook your food.
The Icefield Tent Campground is open from the first week of June through the second week of October.
8. Mosquito Campground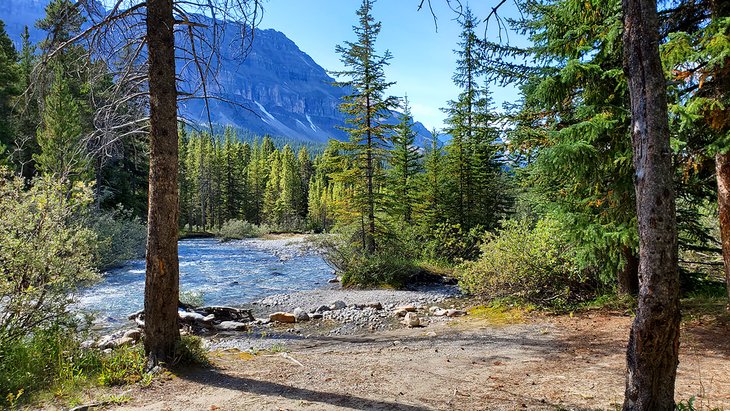 Each night as you lay your head to rest at the Mosquito Campground, you'll be lulled to sleep by the sound of nearby Mosquito Creek. The campground has 32 sites available on a first-come, first-served basis. It's a handy spot to camp, as it's only 24 kilometers from the attractions of the Lake Louise area and Yoho National Park is also close by.
The campground has a good mix of both tent sites and sites suitable for RVs. With the limited number of sites, it's a pleasant, quiet place to spend a night or a few days. Just up the road are some great hikes and lakes to explore.
Mosquito Creek does not actually have any more mosquitos than other campgrounds in the park, so don't be alarmed by the name. You'll find the standard assortment of pit toilets, communal cook shelters, and water.
The Mosquito Creek campground is open from the first week of June through the middle of October.
9. Lake Louise Campground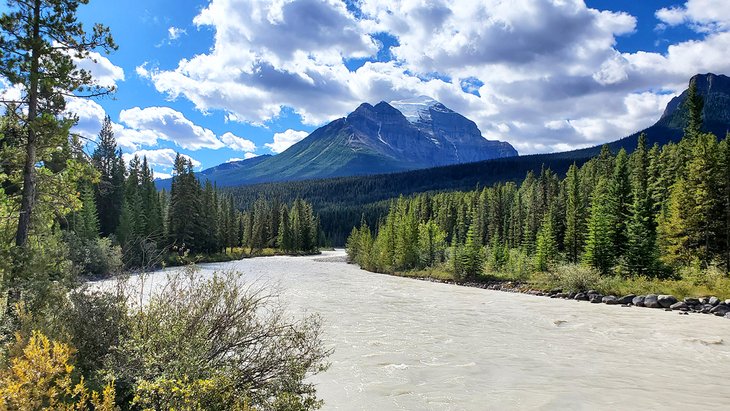 Camping at Lake Louise takes two forms: tent camping in a wonderful wooded setting by the fast flowing Bow River and RV camping on the opposite side of the river, in a side-by-side format in the woods.
The Lake Louise Tent Campground has 206 sites spread out in 12 loops with lots of space and privacy at each site. The campground has running water, flush toilets, and hot showers. The entire tent area is enclosed by an electrified bear-proof fence to ensure camper safety.
The Lake Louise Trailer Campground has 189 sites and offers sewer, water, and electricity. It is not surrounded by the electrified fence, and RVs must be completely hard-sided. Maximum length is 22 meters. Both campgrounds share the same entrance gate.
The campground is ideally situated within walking distance of the Lake Louise townsite. Here, you'll find a grocery store, various retail outlets, and some very good restaurants. Just a few minutes up the road are the world-famous Lake Louise and Moraine Lakes and some amazing hikes. A pleasant walking trail runs along the Bow River and connects with other trails around town.
The Lake Louise Trailer Campground is open all year, and the tent campground is open from the first week of June through the end of September.
Additional Camping Areas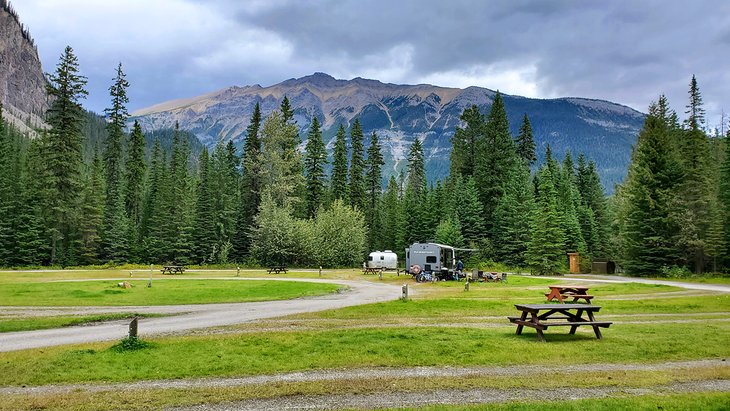 Several other places in the park will do in a pinch if you can't get into your preferred location.
If Tunnel Mountain and Two Jack Lakes are full, drive up the Bow Valley Parkway to Johnston Canyon Campground. Here, you'll find a basic, but pleasant campground with 132 sites, all first-come, first-served. The campground is set next to the wonderful Johnston Canyon hike.
If Lake Louise is full, drive back towards Banff and turn off onto the Bow Valley Parkway to find the Protection Mountain Campground. This campground is only for hard-sided RVs and trailers. No tent camping is allowed here due to the bear danger. This campground has recently been updated and now is wide open, with nice views of the surrounding mountains.
Another option if Lake Louise is full is to continue on, farther west, down the big hill to Yoho National Park and the Kicking Horse campground. This campground is a mid-sized campground with good tent sites in the woods and an open area for RVs.
If you are truly desperate, you can camp at the very basic Meadows Campground, just down the road from Kicking Horse and let the transport trucks lull you to sleep as they ride their engine brakes down the hill.
If you find yourself up the Icefields Parkway in an RV, and all the campgrounds are full, overflow camping is available in the parking lot of the Icefields Visitors Center.