We may earn a commission from affiliate links ()
Located only an hour from Calgary, the rugged wilderness of Kananaskis Country is a wonderful outdoor playground and offers a special experience for campers. Now, with over five million dollars recently invested by Alberta Parks in the Kananaskis Country facilities, including the campgrounds, this area is even better.
Towering, jagged mountains rise up from the valley floor, where you'll find an assortment of cold, clear lakes. Activities abound here, so load up the car with all the sports equipment you can think of. Things to do in Kananaskis Country include hiking, mountain biking, road biking, mountaineering, boating, stand up paddleboarding, kayaking, and more.
Camping in Kananaskis Country is mountain camping, meaning nights are cool, and days can be filled with changeable weather. It can be sunny and warm one minute and then breezy, cloudy, and cold the next. A majority of the campgrounds are in the 1,524-meter (5,000-feet) range.
Kananaskis Country is nature at its best and as a result, it is a great place to spot wildlife. Some of the animals you'll likely come across include mountain goats, marmots, deer, moose, and, if you are lucky enough, grizzly bears – something to consider when you are setting up your campsite.
Your camping neighbors will most likely be Albertans. International travelers tend to gravitate towards Banff, Lake Louise, and the Icefields Parkway areas. Campgrounds in Kananaskis Country feel much more remote and are quieter than those in the more well-known areas.
Before heading off on your adventure, be sure to have a read through our list of the best campgrounds in Kananaskis Country.
Note: Some businesses may be temporarily closed due to recent global health and safety issues.
1. Mount Kidd Campground
Located a short distance down Highway 40 (off the Trans-Canada Highway), on the right side, is the Mount Kidd Campground. This is one of the larger campgrounds in the Kananaskis area, with 229 sites.
This is a great place to camp, not only for the beautiful mountain views, but also for the sheer number of things to do in the area. An extensive assortment of hiking trails are within a short drive of the campsite, and for those looking for something closer, trails leave from the campground. Mountain bike trails are also nearby, and for children, the campground is big enough to just ride their bikes around the park roads.
Tennis courts are free to use for guests, and the world-class Kananaskis Golf Course is right next door. On hot days, the children's splash pad is a popular destination.
The campsites are well spaced and are in treed areas (big pines) that provide a good level of privacy. Campers have the option of 15/20/30/50 amp electrical service and options for services, including sewer and water. Paved roads throughout the park eliminate any dust.
For convenience, pull-through sites are also available. For an additional fee, Wi-Fi is available. The campground store is well stocked with all the necessities should you forget anything.
Sites are reservable online 90 days in advance.
2. Canyon Campground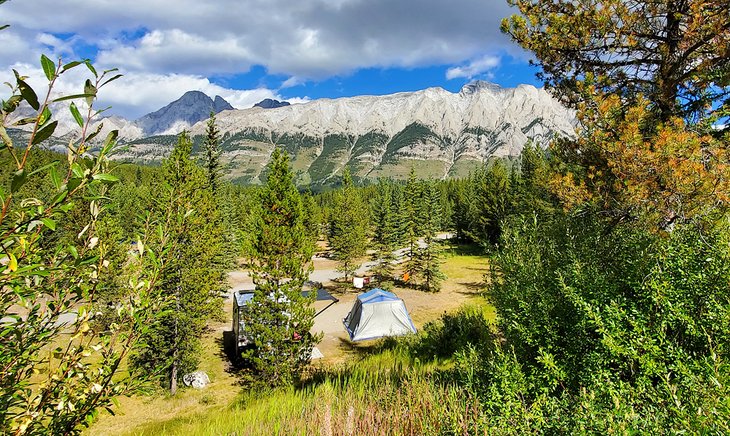 Canyon Campground is, like many of the campgrounds in Kananaskis, incredibly scenic. It looks out to the sheer rock faces of the Opal Mountain Range. The campground has two areas for camping: a lower section and an upper section. Although the upper area has the nicer campsites, both areas have their advantages.
The lower area is a very open camping area, dotted with small trees, and lacks privacy. The real plus of camping here is the amount of light it receives and the mountain views.
Smaller sites are located in the woods in the surrounding hills (upper section) and are more suitable for tents. The sites here are well spread out, offering great privacy.
With only 50 sites, all unserviced, this is a smaller, cozier campground than many of the other ones nearby and has a real off-the-grid feel. It's set well back from the highway.
Hiking trails leave right from the campground, and the Lodgepole Biking Trail runs through here, which joins this campground with others in the area. From this area, you also have access to a boat launch on Lower Kananaskis Lake.
Sites are first-come, first-served, and the registration kiosk is on the right as you enter the campground area.
3. Eau Claire Campground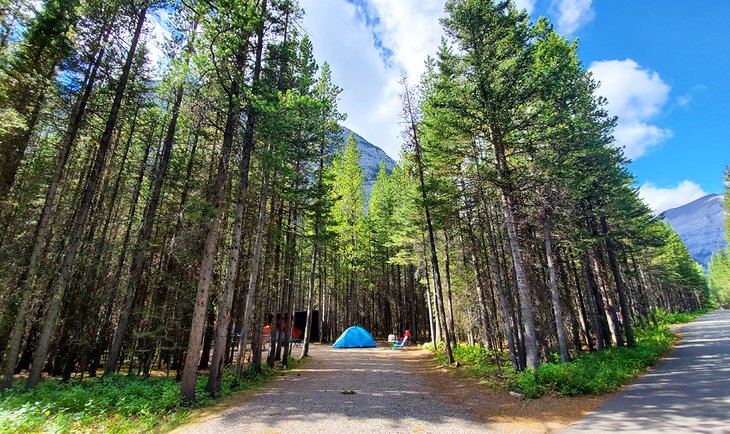 Eau Claire Campground is a small, intimate campground, with large, well-spaced sites tucked into a forest of pines. Sites have a lot of shade but are protected from the wind and offer great privacy. Mountain views can be had from the paved loop roads.
The 50 sites are all first-come, first-served. All sites are unserviced, so RVs will need to be prepared to dry camp or boondock. Note that water is provided, but it is from a traditional well hand pump.
One of the advantages of staying here is that you'll have easy access to the Kananaskis River. This provides great opportunities for fishing and paddling.
Be sure to check out the interesting Eau Claire Interpretive Trail, which travels 1.5 kilometers along the river. Grab a brochure or download one first to gain a better understanding of the people that have been camping here for over 5,000 years. Eleven points of interest are signposted along the trail.
4. Lower Lake Campground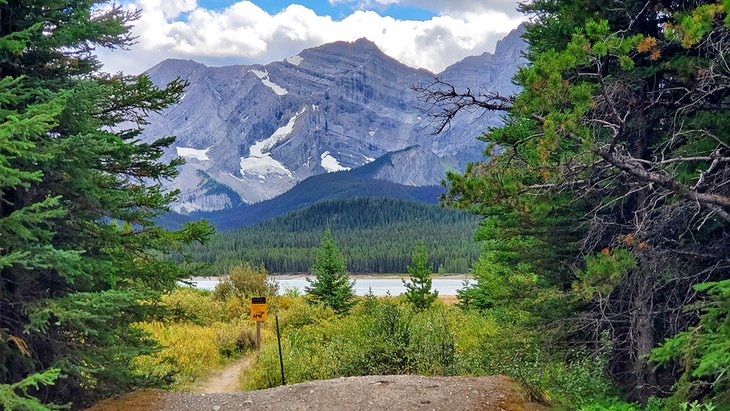 Lower Lake Campground is a mid-size campground situated close to the Upper and Lower Kananaskis Lakes. Here, you'll find 95 sites, all unserviced, set in the trees. These are, for the most part, very nice and large sites, and some look out through the trees to the lake and mountains. Loops B and C are closest to the lake.
The lakes are fun places for water sports, and if you have your boat with you, a launch is located right in the campground.
Hiking trails wind their way throughout the campground, and the campground roads are perfect for biking with children. The campground also has a playground, and the comfort stations have flush toilets.
For a good view out over the lake, walk to the viewpoint located near the boat launch.
Sites are reservable 90 days in advance.
5. Elkwood Campground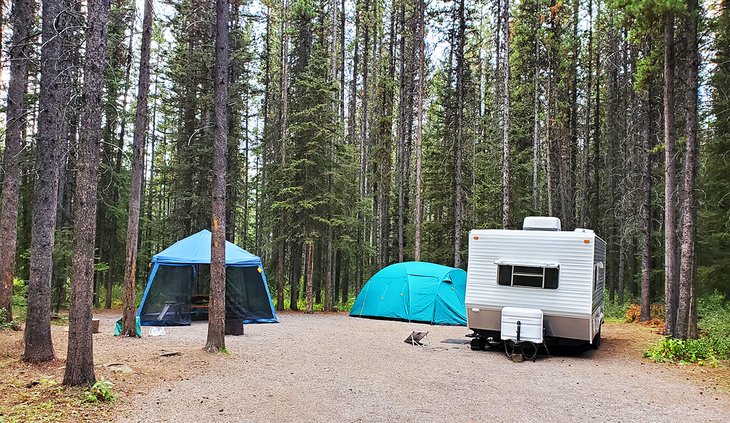 Elkwood Campground provides a few more creature comforts than other ones nearby. Sites are set amid skinny, tall pines, and do not have any mountain or lake views.
Elkwood has 130 sites, all of which are reservable online 90 days in advance. The sites are split, with 61 unserviced and 69 with power and water.
Since sites here have power and water available, it's possible to set up and stay for a while. Amenities include showers (fee), flush toilets, and interpretive programs.
The campground is on the 12.1-kilometer paved Peter Lougheed Bike Trail which links five campgrounds and the Discovery Center.
Although access to the lakes is not as good as other campgrounds, it's still decent, and the trade off in exchange for better amenities may be worth it. It depends on what you're looking for in your camping experience.
6. Spray Lakes West Campground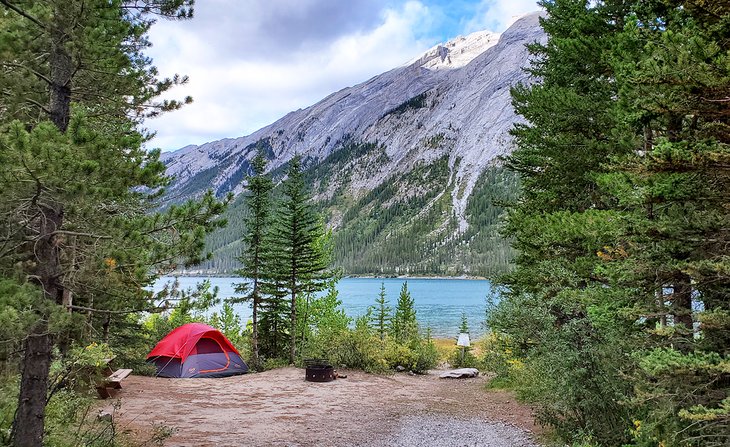 A short drive up the big hill from Canmore is the Spray Lakes West Campground. The big advantage here is that many of the sites sit right on the water's edge. You can gaze across the water to the towering mountains on the other side.
The campground has 50 sites, all of them available on a first-come, first served basis. The sites are a mix; some are more suited to tents, others will accommodate an RV without issue. All sites are unserviced, and comfort facilities consist of pit toilets. Water is available from a traditional well pump.
This is an ideal location if you enjoy boating, hiking, road biking, or mountain biking. A boat launch is nearby, and the trails are a short drive or ride away.
7. Boulton Creek Campground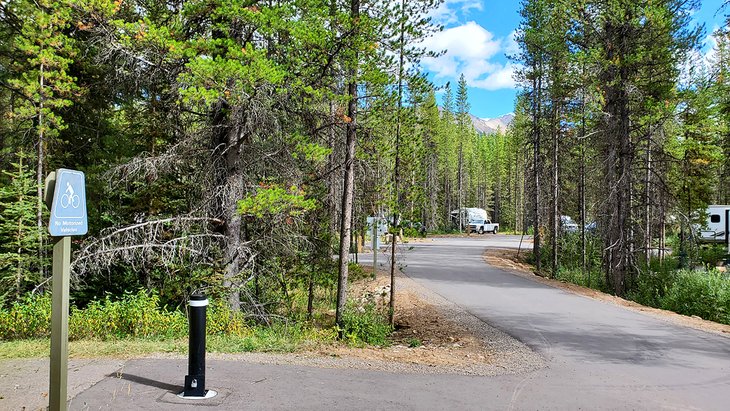 Boulton Creek Campground has recently been updated and now has brand new facilities. Upgrades include new roadways; electrical, water, and sewer enhancements; tree clearing; and overall site improvements.
This campground is good for those who are looking for conveniences as part of their camping experience and are less concerned about the location. At the moment, the campground has a bit of a raw feel due to the extensive tree cutting, but in time will regain some of its original charm. Privacy is limited, and there are no views from this campground.
Boulton Creek is the main commercial area of the four nearby campgrounds (Lower Lakes, Canyon, Elkwood, and Interlakes). Here, you'll find a small store selling basic supplies and offering equipment rentals.
The 160 sites here are a mix of 86 unserviced; 37 with power and water; and 32 with power, water, and sewer. The campground has six walk-in sites. Showers are available as well for an additional fee.
8. Canoe Meadows Campground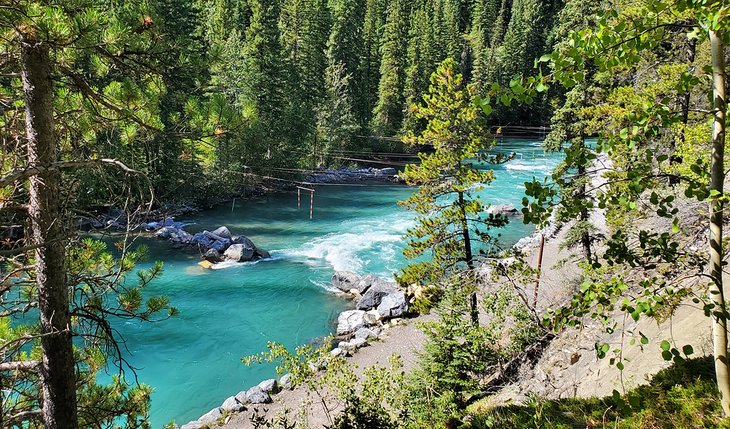 Set on the Kananaskis River in Bow Valley Provincial Park, this campground is for those interested in white water kayaking and rafting. The river here has been designed for this activity, with boulders strategically placed for effect.
This campground here has recently been upgraded and now has new individual sites along with new comfort facilities, and kayak racks.
The campground is essentially divided into two areas. Along the edge of the river, but high above it, are the new individual tent sites. The setting here is quite wonderful, with the river mere steps away. The large group camping area is just over the hill in a large open area, and here you'll find a large communal building.
Ten sites here are bookable online, but do require a two-night minimum on the weekends.
9. Interlakes Campground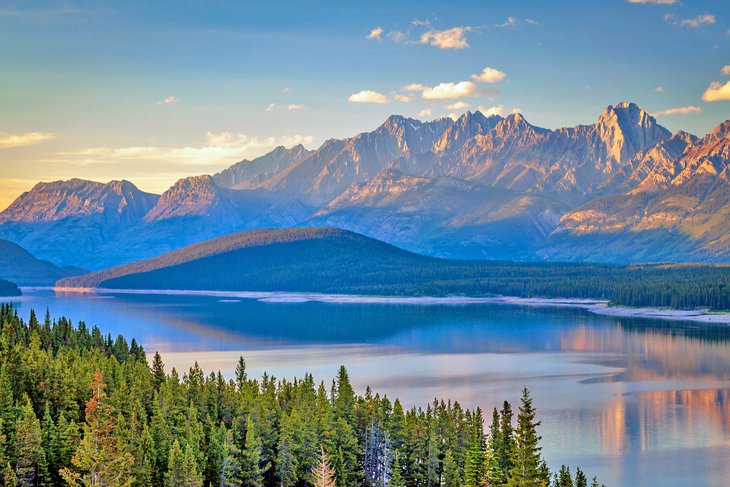 If you can snag a campsite at Interlakes Campground, you'll be one of the luckiest people in Alberta. Interlakes Campground is one of the few campgrounds in Kananaskis Country that has true waterfront sites.
Only 48 unserviced sites, roughly half of which are on the waterfront, give you instant access to Lower Kananaskis Lake. Sites here are first come, first served, so getting one on a weekend can be tricky. True diehards come midweek and stay for the duration.
Facilities here are basic, with pit toilets and a hand pump for water. Hiking, walking, and biking trails all leave from the campground. A hand boat launch (vehicles not allowed), makes launching your stand up paddleboard, canoe, or kayak easy.
Where to Stay if the Campgrounds are Full
The campgrounds in Kananaskis Country are popular, and for good reason. As a result, they are almost always full mid June through the end of August, especially on weekends.
If you are unable to make a booking online, or the first-come, first-served campgrounds are full, consider staying in nearby Canmore. Here, you'll find a lively mountain town with fantastic dining, comfortable accommodation, and beautiful mountain views.
Mid-Range Hotels: The Falcon Crest

Lodge

has recently been renovated and offers rooms with kitchens. Guests have use of the outdoor hot tubs, just perfect for soothing your aching muscles.

Ideally located is the Blackstone Mountain Lodge. Downtown Canmore is a short stroll away, and the lodge has a large outdoor pool. You'll have your choice of suites, with kitchens and balconies, that have either one, two, or three bedrooms.
Budget Hotels: For those requiring less space and just looking for a standard hotel room, consider the Super 8 by Wyndham

Canmore

. The hotel is about a five-minute walk from Canmore's main retail area, where you'll find grocery stores, banks, shops, and restaurants.
Family Hotels: If you are traveling with small children then the Pocaterra Inn &

Waterslide

should be on your radar. The pool area and waterslides will burn off any excess energy, and the comfortable rooms, some with good views, will ensure you sleep soundly. Rates are reasonable, and the location is close to several grocery stores, family restaurants, and fast-food outlets.
When is the best time to camp in Kananaskis Country?
This is a tricky question to answer because it all depends on your tolerance for cold. However, as a general rule, the best time to camp in Kananaskis Country is the four-week stretch from mid-July through to mid August. At this time of year, you are going to find the warmest weather and the least amount of biting insects. Also, at this time of year, the lakes will be at their warmest, which by most people's standards are still bone-chillingly cold.
Of course, this is when the campgrounds are busiest, so be sure to plan ahead and book your favorite spot online as soon as the booking window opens.
Other options for camping are in June and late August into September. In June, you'll have greater campsite availability, however, the weather at this time of year is very changeable. It can be hot one minute, and snowing the next, so be sure you pack your warmest clothes just in case!
The early fall time-frame can be a delightful time to camp, however, the days start to get short, and the nights can get quite cold. You won't have to contend with any insects, and most of the family campers will have departed, as the kids will be back in school. With their departure, the campgrounds settle back into a quiet state.
For some folks, winter camping is an option. Eight campground areas are open for these hardy folks. Snowshoeing, cross-country skiing, snowmobiling, and downhill skiing are all on offer either right from the campgrounds or nearby.